Our History
Auckland Volunteer Fire Brigade
Since 1984 we have been officially known as the Auckland Volunteer Fire Brigade: this is the name of the entity on the document forming our Agreement of Service with the New Zealand Fire Service Commission. We are thus officially the Auckland Volunteer Fire Brigade, all members of which were formerly Fire Police: they now serve as Operational Support.
We have inherited the name of an honourable organisation which began in the very early days of Auckland.
Settlers were aware of the dangers of fire in their new town: "Kolsthabe", writing in the Daily Southern Cross on 15th February 1848, said the one fire engine (manual pump) in Auckland was insufficient, and, anyway, no one was properly trained to use it. "I beg to impress upon the minds of both authorities and inhabitants the truly startling fact that, were but one house to get well on fire at either end of some of our streets (Shortland Street, for example) with the wind blowing fresh... ...that nought that we could do in our crippled state would have the least effect in tending to save the whole range of buildings from being devoured by the devouring element".
In September 1849 a number of citizens, in the absence of any action from the Legislative Council, called a meeting of townspeople to consider what steps they could take to relieve the colony from its difficulties "to meet the present emergency" *.
Among the listed difficulties was the risk of fire. The town's settlers realised that the increasing numbers of predominantly wooden buildings constructed close to each other posed a serious fire risk, heightened by lack of adequate equipment, trained personnel and water supplies for fire-fighting.
The first fire brigade was formed in 1849 with a membership of 100 men.
Local businessmen, former sea-farer, William Crush Daldy, became the
first officer-in-charge: Captain of the Auckland Volunteer Fire Brigade.
On 7th July 1858 the exact scenario foreseen some ten years before by correspondent "Kolsthabe" played out. Shortland Street was the scene of an intense and lasting fire that ripped through Shortland, High, O'Connell Streets and Vulcan Lane, spreading across to Chancery Lane, consuming some 20 shops, 17 dwelling-houses, 3 hotels and public facilities like the Police Station, old Post Office, Theatre, stables, the blacksmith's and the town's dispensary.
This disaster immediately galvanised the authorities and townspeople into better fire protection by forming new Engine Companies and providing static water supplies for fire-fighting. Insurance companies' formed their own trained teams to respond to fires. It's believed William Daldy helped organise these.
When the Brigade consolidated in 1862 he was appointed Superintendent, holding this position until succeeded by Superintendent Asher Asher some 3 years later.
But it was not only in business that Daldy contributed to the fledgling Auckland town: he was a talented all-rounder, committing time and talents to the developing city.
Members of the present Auckland Volunteer Fire Brigade proudly acknowledge and recognise the connection with William Crush Daldy, Captain of the first volunteer fire brigade and benefactor to Auckland in so many other ways.
* Advertisement, Daily Southern Cross newspaper, 4 September 1849
William Crush Daldy, JP.*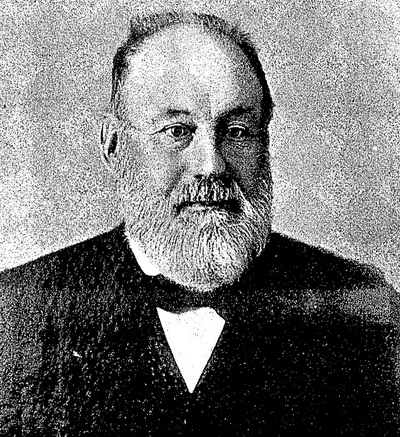 William Crush Daldy, November 1903
Born in England in 1816, Daldy went to sea at age 16 and, after travelling the seven seas became Captain when he was 24 years of age. He arrived in Auckland in 1841 skippering the schooner Shamrock and subsequently traded between Auckland and Sydney. He then took the Bolina to England in 1845. Returning to New Zealand 2 years later he gave up the sea, settling in Auckland and founding the first of his numerous business interests: acquiring, felling and shipping timber to help build the burgeoning Auckland.
Daldy partnered in business with Walter Combes in 1849: the company Combes and Daldy expanded both the size and scope of interests, becoming one of the best known companies in the colony and endured for 20 years until Combes' death.
In 1849 Daldy oversaw the founding of the first volunteer fire brigade
and was its first Captain.
Knowing (and seeing, first hand) the risks and effects of fire, and with his sea-going experience, in 1849 William Daldy added insurance to his numerous business affairs. The partnership Combes and Daldy began underwriting buildings and shipping - this flourished and he later founded the New Zealand Insurance Company (survives in name, NZI) and later the South British Insurance Company (merged with New Zealand Insurance, 1981
As well as an astute businessman, he was soldier, Justice of the Peace, local councillor, Member of Parliament, Minister of the Crown, church man, benefactor and philanthropist. He died on the 5th October 1903 and rests in Purewa Cemetery.
During his life he chalked up a remarkable number of notable achievements ... this list is not exhaustive but it's our salute to a wise man with undoubted foresight who once led the brigade we have inherited...
1841
First ship's captain to register arrival at the new Auckland Customhouse, when it opened on July 1st in a raupo hut on the waterfront. Daly captained the Shamrock.
1845
First ship to carry cargo from Auckland to the UK, Bolina, W. C. Daldy, captain, a passage of 155 days.
1848
First wharf, Wynyard Pier, was constructed in Auckland by WC Daldy.
1849
First Captain of the Auckland's first volunteer fire brigade.
1849
Formed business partnership with Walter Combes, led to NZ's first insurance company.
1852
Appointed pioneer trustee, Auckland Savings Bank, now ASB. Encouraged, by offering rewards, gold exploration on the Coromandel.
1853
First Deacon appointed by the Congregational Church, Daldy organised the construction of Beresford Street Church, first concrete building in Auckland.
1853
First Deacon appointed by the Congregational Church, Daldy organised the construction of Beresford Street Church, first concrete building in Auckland.
1854
Established Freedom of Religion Society.
1856
Appointed Justice of the Peace, frequently presiding magistrate in the Police Court. Appointed to founding committee, Auckland Chamber of Commerce. Elected to Parliament.
1857
Elected to Provincial Council.
1860
Foundation member and officer-in-charge, coastal forces - shore defences during the New Zealand Land Wars.
1861
Created Bank of New Zealand (BNZ today).
1863
Led the Naval Brigade, NZ Company during the remainder of the NZ Land Wars. Chaired committee suggesting water supplies for Auckland be piped from springs in the Domain for domestic use and for fire-fighting. Chaired committee approving first railway, Auckland to Drury.
1864
Appointed Provincial Council's special agent in London: he ordered the locomotive and equipment for the railway.
1866
Member, founding committee, South British Insurance Company.
1869
Member, founding committee, Auckland Industrial School, care of neglected and destitute children.
1871
Chairman of the Auckland Harbour Board (two tugboats are named after him).
1874
Elected to Auckland City Council, negotiated Western Springs as the main water supply for Auckland.
* Details summarised from Captain William Crush Daldy, by Lesley N. Dugdale, Heritage Press Limited, 1993 and newspapers, principally Daily Southern Cross, 1848 - 1876.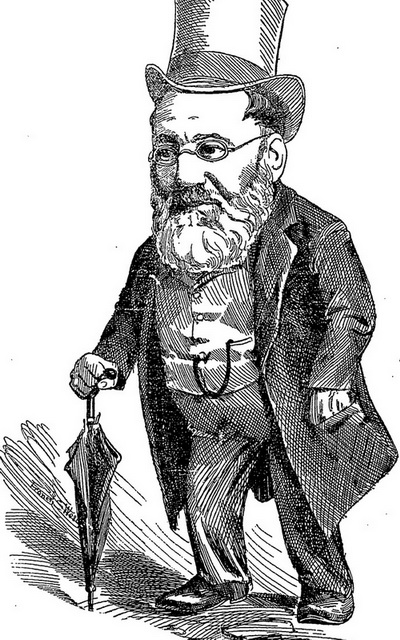 How the artist in The Auckland Star saw Capt Willam Daldy in 1894